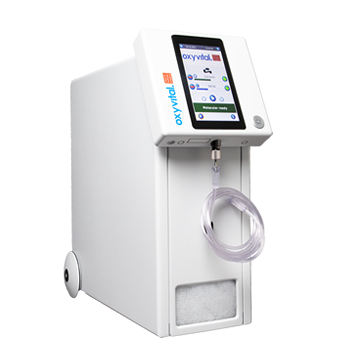 Oxyvital® AirOLife™



Air Purifier (Medical Grade)
Personal & Residential
The Oxyvital® AirOLife™ purifier is designed for use personal and residential environment to effectively remove chemical gases, odours, airborne bacteria, viruses and particles, hence providing the purest indoor air to an area up to 40 sqm.
The Oxyvital® AirOLife™ air purifier incorporates our proprietary, patented ZeoSieve™ technology, purifying the air you breathe beyond simple HEPA filtration quality. To date, it is the only technology in the world that can meet the Indoor Air Quality (IAQ) guidelines for all indoor air pollutant classes stipulated by the World Health Organization (WHO) and as adopted by various governments.
Incorporates Oxyvital's proprietary, patented ZeoSieve™ technology beyond simple HEPA filtration standards

Provides medical grade oxygen for use in oxygen therapy, which can provide relief for people with respiratory or asthmatic conditions.

Remove smells and odors caused by chemicals, organic pollutants, biological pollutants, mould and bacteria - subject to air changes as well as mechanical and natural ventilation in a given environment. Reduce ozone down to levels considered safe by World Health Organisation

Appliance has also been tested and certified to reduce other pollutant gases including CO (Carbon Monoxide), NO2 (Nitrogen Dioxide), HCHO (Formaldehyde), TVOC's (Total Volatile Organic Compounds, including cancer causing carcinogens like benzene, xylene, toluene) as well as radioactive Rn (Radon) gases.

Leakage-proof
Typical applications include schools, work stations, offices, hotels, clinics and hospitals, nurseries and daycare centres, in addition to home applications like in bedrooms, living, study and work -out areas.